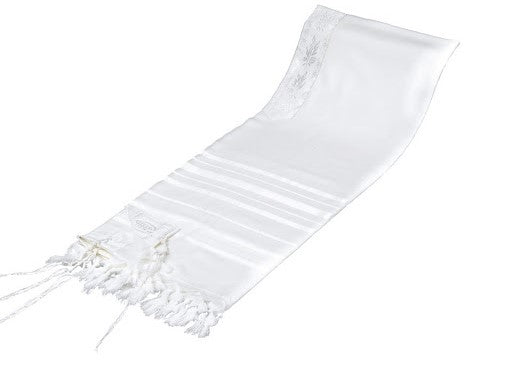 Tashbetz Talit White and Silver
Sale
Sale
Original price
$140.00
-
Original price
$180.00
The Tashbetz Tallis. Raised-grid weave. 100% lamb wool. Available in White Silver. no slip Talit
A traditional tallit made of a luxurious, supple wool fabric that moves and breathes freely. The textured, raised-grid weave lends it an elegant "checkerboard" look, resists slipping and drapes elegantly This unique weave makes the Tashbetz Tallit very soft to the touch and a pleasure to wear.
White with satin and silver striping. Features a beautiful, handwoven atara.

The name "Tashbetz" is borrowed from Exodus 28:4, which refers to "a tunic of chequer work."  Tashbetz is also the name of a famous responsa written by Rabbi Shimon ben Tzemach Duran (14th century Spain).