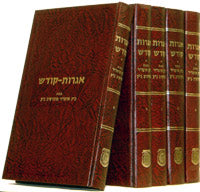 Igrot Kodesh Lubavitch Rebbe, Meturgamot in to Hebrew - 4 volume
Original price
$99.95
-
Original price
$99.95
BY Menachem M. Schneerson

This treasury of letters Igros Kodesh by the Lubavitcher Rebbe displays his scholarship, wisdom, and understanding in personal responses to communications from people in all walks of life. The profound lessons of his advice transcend the spheres of the individual recipients. Intense and inspiring, these letters provide a fascinating glimpse of the Rebbe-Chasid relationship.
The letters written by the Lubavitcher Rebbe are a unique source of inspiration and guidance to Jews in every corner of the globe.
The Rebbe's prolific correspondence spans every aspect of community and family life. Education, keeping kosher, personal advice, medicine, science, communal leadership and nearly all matters pertaining to life, are covered in this series.
Detailed indexes by subject, proper names, and place names aid research, concentrated study or just plain browsing.
Language: Hebrew
Format: 6" x 9" Hardcover, 4 volumes