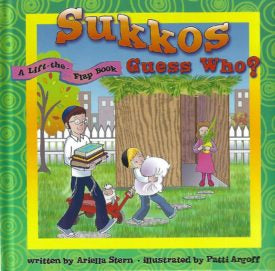 Sukkos Guess Who?
Original price
$11.95
-
Original price
$11.95
 Sukkos Guess Who?
A Lift-the-Flap Book
It's exciting and interactive for children to guess the rhyming Sukkos riddles, then open the flap to reveal the answers. Cleverly designed so the very young will learn as they go… all about the special holiday mitzvos and foods, the joy of building a sukkah and shaking the lulav and esrog, and so much more. This fun and lively book features all the important days of celebration, including Chol HaMoed, Hoshanah Rabbah, Shemini Atzeres and Simchas Torah!
Children are sure to love the bright, colorful illustrations that depict a loving family enjoying yom tov together. This sturdy, hard bound book makes a great gift for boys and girls ages 3 and up. Perfect for preschool classrooms, storytime, and children's parties!
Sukkos Guess Who?
By Ariella Stern, illustrated by Patti Argoff
Hardcover 28 pages / Ages 2-5