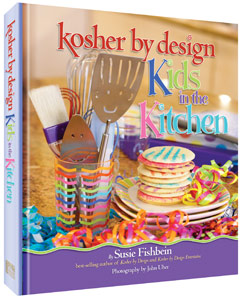 Kosher By Design - Kids in the Kitchen
Original price
$29.00
-
Original price
$29.00
BY Susie Fishbein
Ages 6 & up Thanks to Susie Fishbein, kids can have the time of their lives in the kitchen while learning valuable skills that will last a lifetime.

Kids love to cook, and even the pickiest eaters will savor foods they prepare themselves. The recipes in this book are for real foods the whole family will want to eat. They're simple enough to give a child confidence in his or her ability to turn out great-tasting snacks, meals, drinks, and desserts. Adults will want to usek these terrific ideas when they're in the mood for quick and easy recipes!

Includes 80 kid-friendly recipes with full-color photos, ezuipment list, ingredient list, easy to follow instructions and helpful tips.
Dimensions:
8.75 x 10 inches