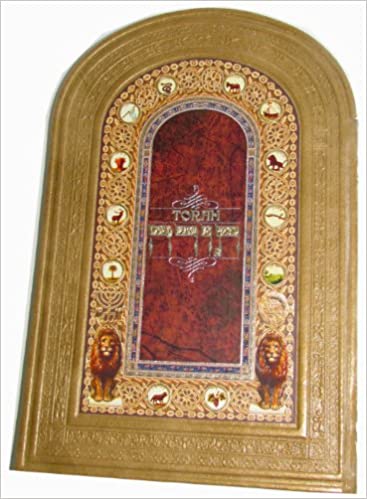 The Illuminated Torah - English and Hebrew - GOLD Edition
Original price
$145.00
-
Original price
$145.00
Illustrated old Testament book (Pentateuch)


Edited by David Arnon
Illustrated by: Raymond Cintas

This Torah is dedicated to the revival of Hebrew manuscript illumination, the ancient cultural tradition, which has been active for more than a thousand years.

The book features the complete text of the Hebrew Bible (including diacritical punctuation) accompanied by illustrations, paintings, and works of art spanning the ages, as well as a comprehensive introduction. The Torah is printed on fine paper, in full color, with gold ornamentation and lacquer finishing, and cut with a unique technique an original invention of our publishing house allowing the shape of the opened book to resemble the two Tablets of the Covenant.

This Torah represents the glorious 3,500 year-old cultural roots of the People of Israel, and highlights the adherence to quality in design and production witnessed in Israel today. With its distinctive form and precise design, combining works of art hundreds and even thousands of years old and from all over the world, this Torah beautifies and enhances the Sabbath and holiday table, as well as the family bookshelf.
Language :

 

English, Hebrew

Hardcover :

 

209 pages

Size 9" X 13"