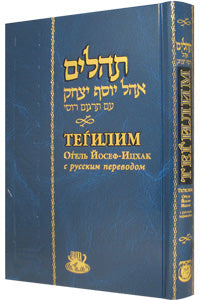 Tehillim Hebrew - Russian Large Blue Hardcover - Псалмы Давида, большой
Original price
$22.95
-
Original price
$22.95
For centuries the Book of Psalms has been a source of solace in times of need and a source of inspiration in times of joy. A new translation of this beloved part of the Bible, which is so central to Jewish life that much of the daily and Shabbat liturgy is comprised of its verses. Original Hebrew text with Russian translation.

This elegant Hebrew-Russian Tehillim printed on lightweight Bible paper, is perfect for "Saying Tehillim." Clean, and easy to read, with digitally enhanced and corrected Hebrew. Great for synagogues and makes a great gift.

Also includes: "The importance of Saying Tehillim Kel Moleh Rachamim Kaddish.
Format: Hardcover,
Pages: 484
Size: 5½ x 8½
Language: Hebrew / Russian