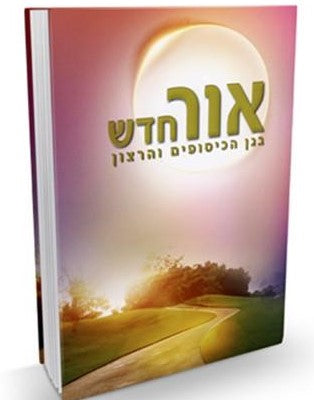 אור חדש - בגן הכיסופים והרצון A New Light: In the Garden of Yearning & Will - Hebrew
Sale
Sale
Original price
$25.00
-
Original price
$25.00
אור חדש - בגן הכיסופים והרצון / הרב שלום ארוש.

אדם צריך לשנן את המשפט הזה: ׳מעשה ידיו של אדם מוכיחים עליו. ראה והתבונן היטב: מה שאתה רוצה אתה עושה, מה שאתה רוצה אתה יכול. אם משהו חשוב לך אתה מוצא לו זמן, כוחות ויכולות. מכאן ילמד האדם שעל ידי רצון חזק הוא יכול להגיע להישגים גבוהים בחיים.
תתבונן בדרכיך ובמעשיך, תתבונן בחיים שלך, ותראה שאתה יכול להגיע לכל מקום, ומזה תבין שכל מה שאתה עושה בחיים זה בדיוק מה שאתה רוצה, כי אם היית רוצה באמת משהו אחר, היית מגיע למקום אחר.
הנתונים האישיים שלך לא מעלים ולא מורידם, העיקר הוא רק הרצון.
בדור שלנו הניסיונות קשים מאד. כל התאוות התגברו בצורה מבהילה והן זמינות לכל אחד בבית ובחוץ. המלחמה שיש לכל נפש היא מלחמה נוראה מאד. ומי יכול לעמד במלחמה כל כך נוראה. לכן נראה לכל אחד שאין לו בחירה.
אבל ה׳ הקדים תרופה למכה, ונתן לנו את הנשק לעמד במלחמה שהוא הרצון, כי בחסדי ה׳, בדור שלנו הרצונות לעבוד את ה׳ ולהתקרב לה׳ גדולים וחזקים מאי פעם. הלבבות של הדור הזה בוערים לה׳ כמו אש להבה. וגם אתה כמו שאתה יש בך רצון חזק ואמתי להתקרב לה׳, ואתה צריך לגלות את הרצון הפנימי שלך ולהפעיל אותו ולהשתמש בו, כי על ידו תמלא את ייעודך ושליחותך בעולם בשלמות, ותוכל לזכות גם בדור הזה להגיע לכל המעלות.
BY
Rabbi Shalom Arush
This book by Rabbi Shalom Arush tells how to strengthen our will, to train ourselves to want, and in the same way to discover forces to realize the things we want. A practical guide on how to discover your inner desire to serve God, how to activate that desire and achieve spiritual goals in your life, and thus realize your mission and reach spiritual heights (yes, even in our generation). 

Size: 8" x 5"
Binding: Paperback
Language: Hebrew