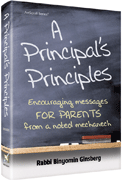 A Principal's Pricipels
Sale
Sale
Original price
$23.99
-
Original price
$23.99

BY Rabbi Binyomin Ginsberg
Imagine having an articulate teacher, a master rebbe, a successful principal - a "teacher's teacher" -- there for you, to answer your questions and help you enhance your child's education. Imagine having a warm and experienced educator available to guide you in helping your children make the most of their formative years.

Stop imagining: You're holding this master teacher and principal- or, at least, his wisdom and experience -- in your hand, in A Principal's Principles, a compelling and urgently-needed book on raising our children.