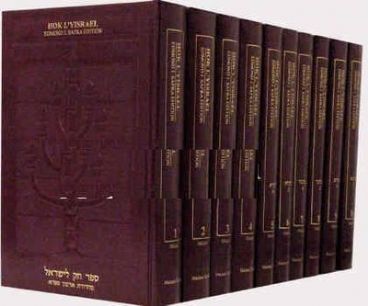 Chok L'Yisrael - Hebrew English Version - חק לישראל
Original price
$150.00
-
Original price
$150.00
Bereshit (Genesis) - volumes 1-2
Shemot (Exodus) - volumes 3-4
Vayikrah (Leviticus) - volumes 5-6
Bamidbar (Numbers) - volumes 7-8
Devarim (Deuteronomy) - volumes 9 -10

Classic work studied daily which contains portion of the weekly Torah reading, Aramaic translation, Onkelos, Rashi, section from the Prophets, Writings, Mishnah, Talmud, Zohar, ethical writings and Jewish law. Translated into English for the first time. Beautifully presented and translated.
Binding

 

Hardcover

Date Published

 

2017