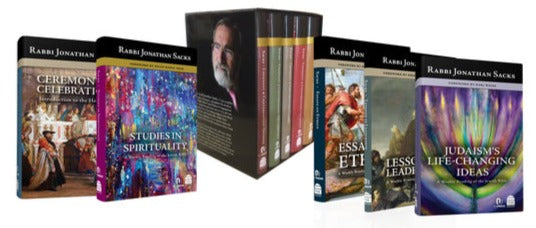 Covenant & Conversation 10 Volume Series
Sale
Sale
Original price
$280.00
-
Original price
$280.00
Studies in Spirituality is the final volume to be published of Rabbi Sacks' Covenant & Conversation essays on the weekly Torah portion. In these pages, we find Rabbi Sacks reading the biblical narrative with profound sensitivity to the depths of the human condition. He inspires us to see models of courage, innovation, faith, fear, the challenges and beauty of family dynamics, healing, the art of listening, hope, personal transformation, and more. His poignant reflections on spirituality return to us the sense of closeness with God that resonated so powerfully with our ancestors – that intimacy which gave them a sense of hope and courage and singularity. Studies in Spirituality aspires to bring the covenant between God and humanity closer to each of us, today and always.

The complete published thoughts from Rabbi Lord Jonathan Sacks zt"l on the weekly Torah portion and the holidays including the last of his books published during his lifetime Judaism's Life-Changing Ideas. Rabbi Sacks fuses Jewish tradition, Western philosophy and literature to present a highly developed understanding of the human condition under God's sovereignty.

Ceremony & Celebration reveals the stunning interplay of biblical laws, rabbinic edicts, liturgical themes, communal rituals and profound religious meaning of each of the five central Jewish holidays.

In Lessons in Leadership, a companion volume to his celebrated series Covenant & Conversation, Rabbi Jonathan Sacks mines the weekly Torah portions for insights into the nature of power, authority, and leadership. Based on the understanding that no man is born a leader, the book explores the principles, and perils, of becoming one. Profound, eloquent, and deeply inspiring, Lessons in Leadership reveals the biblical secrets of influence, as relevant now as they were three thousand years ago.

Why was Abraham ordered to sacrifice his son? Was Jacob right in stealing the blessings? Why were we commanded to destroy Amalek? What was Moses' sin in hitting the rock? And how did the Ten Commandments change the Jewish people, and humankind, for good? Essays on Ethics is the second companion volume to Rabbi Jonathan Sacks's celebrated series Covenant & Conversation.

What is Judaism? A religion? A faith? A way of life? A set of beliefs? A collection of commands? A culture? A civilization? It is all these, but it is emphatically something more. It is a way of thinking about life, a constellation of ideas. One might think that the ideas Judaism introduced into the world have become part of the common intellectual heritage of humankind, at least of the West. Yet this is not the case. Some of them have been lost over time; others the West never fully understood. Yet these ideas remain as important as ever before, and perhaps even more so. In this inspiring work, Rabbi Sacks introduces his readers to one Life-Changing Idea from each of the weekly parashot.
This collection makes Rabbi Jonathan Sacks' brilliant essays on the weekly Torah portion available in book form for the first time.
Volume I: Genesis - The Book of Beginnings
Volume II: Exodus - The Book of Redemption
Volume III: Leviticus - The Book of Holiness
Volume IV: Numbers - The Wilderness Years
Volume V: Deuteronomy - Renewal of the Sinai Covenant
Binding: Hardcover
Size: 5.75" x 8.75"
Volumes: 10
Language: English
Covenant and Conversation 10 Volume Set [Hardcover]
By: Rabbi Jonathan Sacks