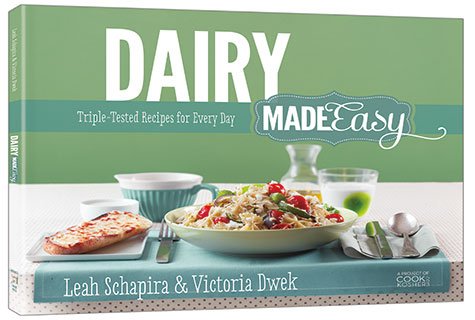 Dairy Made Easy: Triple-Tested Recipes for Every Day
Sale
Sale
Original price
$16.99
-
Original price
$16.99
Delectable. Delicious. Dairy!
Do you love cheese? Delight in pasta? Do you like creamy desserts? Are you looking for new, original, and creative dairy recipes? Here's the cookbook that will take your dairy life to a whole new level!
Invite Leah Schapira and Victoria Dwek - the bestselling authors of the "Made Easy" series - into your kitchen to take you on a dairy culinary adventure.
Here you'll learn to customize your quiches and make restaurant-worthy pizzas. You can turn your home into a gourmet cafè when you're enjoying a Coffee Frappe and Chocolate Croissant Rolls (easier to make than you'd ever believe!). Bored of baked ziti for dinner on dairy night? How about a Hot Asian Mushroom Salad and Cajun Creamy Penne? And for dessert, let's try Peanut Butter Crème Brúlèe or - believe it! - The 180-Calorie (or Less) Cheesecake.
As in all the "Made Easy" cookbooks, the recipes are triple-tested, with accessible ingredients and clear, fun-to-follow instructions. Dairy Made Easy also features a Cheese Guide and guides to making some recipes lighter or parve.
It's time to go dairy and delicious!
60 EASY-TO-MAKE recipes
FULL-COLOR PHOTO for each dish
CHEESE Guide
Bonus SERVING IDEAS
Make It LIGHT section
Dimensions:
9 x 7.5 inches