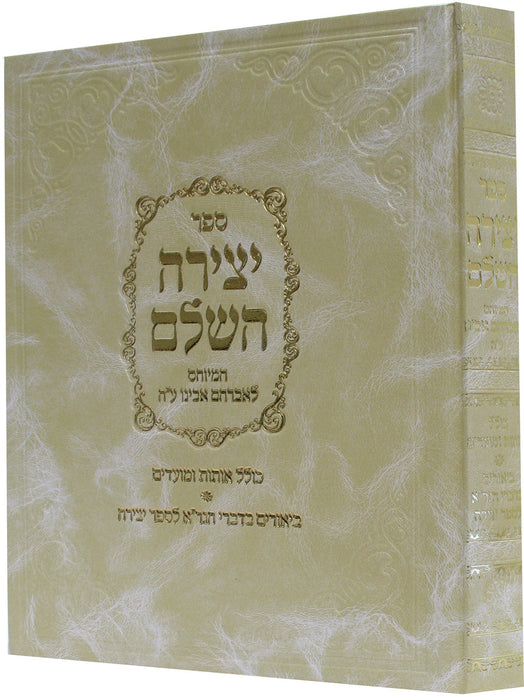 HEBREW SEFER YETZIRAH HASHALEM - HARDCOVER - ספר יצירה השלם / מיוחס לאברהם אבינו
Original price
$64.95
-
Original price
$64.95
ספר יצירה השלם
ספר קודש המיוחס לאברהם אבינו ע"ה ובו יסודות חכמת הקבלה מובא בארבע נוסחאות, עם הפירושים: א. פירוש חכמוני מר' שבתי דונולו ז"ל  ב. פירוש הראב"ד ז"ל: ג. פירוש הרמב"ן ז"ל: ד. פירוש רב סעדיה גאון ז"ל: ה. פירוש ר' אליעזר מגרמיזא ז"ל (בעל הרוקח): ו. פירוש ר' משה בוטריל ז"ל: ז. פירוש ר' משה ב"ר יעקב הגולה ז"ל, בעל ס' אוצר ה', ושושן סודות, ח. פירוש הגאון החסיד מו"ר ר' אליהו מווילנא ז"ל, בה' אופנים, (מוגה ומתוקן מכתב י"ק, ובהוספת לקוטים רבים מכי"ק): וביאור על פירושו מהרב יעקב עד"ס שליט"א. ומפתחות מועילים לפירוש הגר"א (ע"י הרב משה צוריאל) ט. פירוש פרי יצחק מהרב המקובל ר' יצחק אייזיק ז"ל, בעל ספר באר יצחק על ת"ז: י. פירוש להאר"י ז"ל, מאמר קדישין כולל כל ענין ספר יצירה, גם פירוש פרק הראשון מס"י: יא. פירוש אותות ומועדים מהרב ר' יהושע מפריסטיק ז"ל. .


ספר יצירה - הפצת אור התורה, כריכה קשה ומהודרת. החיבור העברי העתיק, שנודעת לו משמעות רבה בעולם המיסטיקה והקבלה, וזכה לפירושים מגוונים על ידי גדולי חכמי היהדות לאורך הדורות, במהדורה חדשה. שפתו ואופיו של הספר ייחודית כל-כך עד שאין לו מקבילה והוא נחשב במחקר לסוגה של ספר אחד. 
חכמי הדורות רובם ככולם הזהירו כי מי שלא "מילא כריסו ש"ס ופוסקים" (כלומר שאינו בקיא בתלמוד ובהלכה) חסר את הכלים הנדרשים כדי להבין אפילו דבר מן הספר המיוחד, ולא זאת בלבד אלא שמסתכן בהיזק, כגון שגעון ודמיונות שווא, הנובעים מהוצאת דברים ברומו של עולם מהקשרם.


Author: אברהם אבינו
Binding: Hardcover
Language: Hebrew 
The origin of all of kabbalistic knowledge is found in a written manuscript called Sefer Yetzirah ("Book of Formation").  Authored by Abraham the Patriarch, it is the oldest written document in our possession today that outlines a path to regain control over this physical world, and ultimately our destiny.
Sefer Yetzirah, the oldest and most mysterious of all kabbalistic texts, and now brings its theoretical, meditative, and magical implications to light. He expounds on the dynamics of the spiritual domain, the worlds of the Sefirot, souls, and angels. When properly understood, Sefer Yetzirah becomes the instruction manual for a very special type of meditation meant to strengthen concentration and to aid the development of telekinetic and telepathic powers.