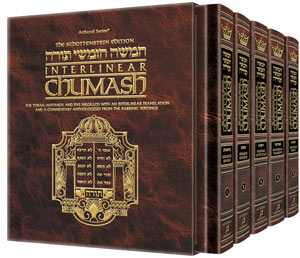 Schottenstein Ed Interlinear Chumashim - 5 Vol Slipcased Set
Sale
Sale
Original price
$165.00
-
Original price
$165.00
Torah, Haftaros and Five Megillos with an Interlinear Translation and a commentary anthologized from the Rabbinic writings
With the Interlinear Chumash you will see
The translation is always right in front of your eyes.
Your concentration is always focused.
You'll maintain your place in the Hebrew during the Torah reading in shul.
You'll know immediately what a word or phrase means.
You won't be distracted by an obtuse or unfamiliar Hebrew word.
A patented arrow system comfortably directs your eye in the right direction.
Each volume in the Interlinear Chumash have these features: 
A Newly-reset, crisp, large size Hebrew text of the Chumash, Targum Onkelos and Rashi's commentary
Contemporary English translation below each Hebrew word
Interlinear Haftaros
Insightful commentary culled from classic sources, adapted from the popular

 

Stone Edition of the Chumash
Helpful diagrams and illustrations
Long-life embossed binding
Binding: Hardcover
Dimensions: 8 5/8" x 10"
Weight: 11 LBS