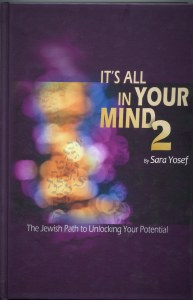 It's All in Your Mind Vol. 2
Original price
$42.95
-
Original price
$42.95
It's All In Your Mind Volume 2
by Rebbetzin Sara Yosef 
The Jewish Path to Unlocking Your Potential. 
The potential power of our thoughts is tremendous. In fact, the secret to success lies in the power of thought.
How can we realize our life's dreams and aspirations?
Can we change our destiny?
How do we avail ourselves of the Almighty's boundless goodness and beneficence?
Is it possible to control our thoughts?
How can we properly thank Hashem for His endless bounty, kindness and generosity?
How can we learn to cope with fear, pressure, anger and resentment?
...this book will prove to be an invaluable guide. Take a few moments from your hectic schedule to reflect on the truly important things in life. Over the years, author Sara Yosef - lecturer and workshop facilitator specializing in positive thinking - has amassed an enormous amount of knowledge and experience in delving into the depths of the human soul.

Author: Sara Yosef
Language: English
Volumes: 1
Binding: hard