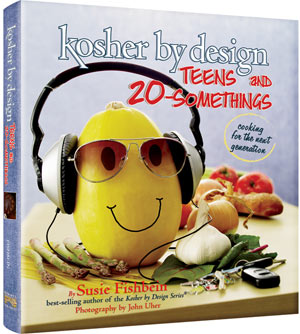 Kosher By Design Teens and 20 - Somethings
Sale
Sale
Original price
$35.00
-
Original price
$35.00
By Susie Fishbein You're young, busy, don't have a lot of time, but like to cook - or would like to learn. Then here's the cookbook you've been hungry for!
Susie Fishbein knows creative cooking; her best-selling Kosher by Design series has revolutionized kosher cuisine. Susie also listens; so when teens and young adults asked for a cookbook that fits their lifestyle - fun food that's delicious and quick to prepare - she responded. Kosher by Design: Teens and 20-Somethings is just for them - just for you.
Want to make amazing food at home instead of ordering another takeout meal? Thinking about surprising your mother with a superb full course dinner, but need help? Looking for simple to-do recipes that don't reqire fancy kithcen gadgets? Need fresh ideas to plan a great party at home - even on short notice? You're in luck! Here are 100 uncommonly delicious alternatives to common fast food!
Young people, students, newlyweds - and the ones who feed them - will all welcome Kosher by Design: Teens and 20-Somethings, the newest and most anticipated member of the KBD family.
100 easy-to-prepare brand new recipes
Large Full-color photo featured with every recipe
Icons to indicate vegetarian, nut-free, dairy-free, and gluten-free recipes
Unforgettable party ideas: a backyard bash, game night and more
Comprehensive cross-reference index
Dimensions:
8.25 x 9.625 inches