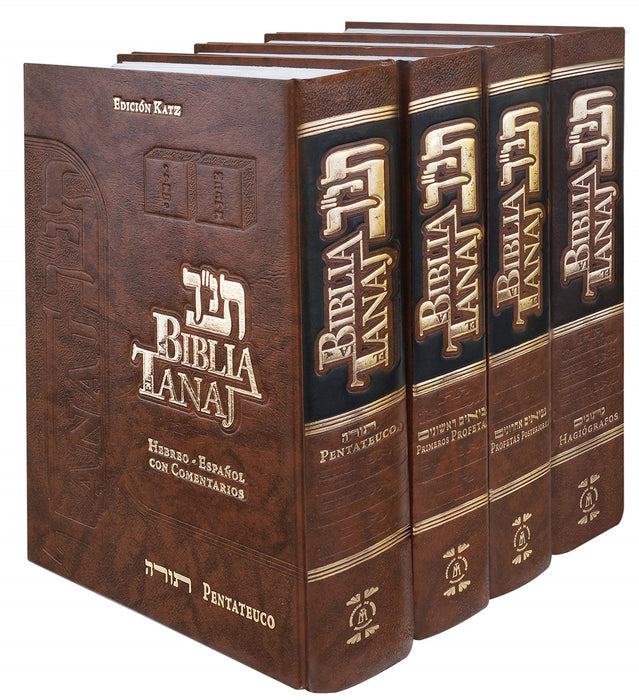 La Biblia Hebrea Completa - Tanaj , 4 tomos - Hebreo / Español con Comentarios (Edición Katz) . Tamaño Grande Hardcover
Sold out
Original price
$270.00
-
Original price
$270.00
La Biblia Hebrea Completa - Tanaj (4 tomos) - Hebreo/Español con Comentarios. Fiel traducción directa del hebreo acorde con las fuentes judías tradicionales. Contiene los 24 libros que corresponden a las Sagradas Escrituras Judías. Cada uno de los libros que constituyen el Tanaj estan separados con indicador a la orilla del libro, lo cual hace que se pueda localizar rapidamente el libro que uno desee. Incluye Infografía y mapas. Con la aprobación Rabínica de Rab Ovadia Yosef (zl), quien fue gran Rabino Sefaradí de Israel TAMAÑO GRANDE. Volumen 1: Tora 
Volumen 2: Nebiim rishonim (primeros profetas) .
Volumen 3: Nebiim ajaronim ( profetas posteriores) .
Volumen 4: Ketubim (escritos-hagiografos) .

The Chumash of choice for synagogue and home!

Language :

 

Spanish

Hardcover :

 2500

 pages


Size 18 CM x  25CM