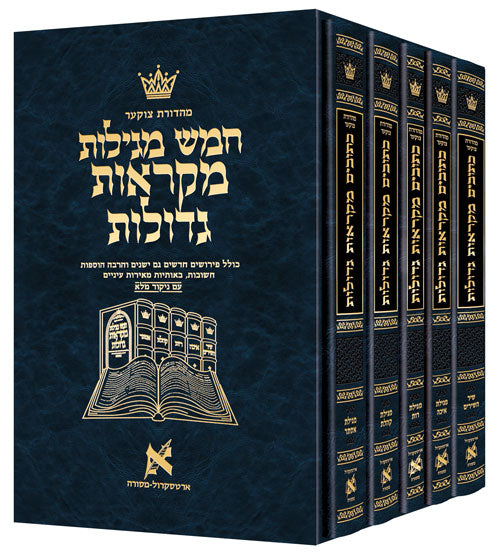 Mid Size Czuker Edition Hebrew Mikra'os Gedolos - 5 Megillos Set
Sale
Sale
Original price
$94.99
-
Original price
$94.99
Newly typeset - Fully Menukad - It will transform the way you learn Megillot !
The best-selling Czuker Edition Mikra'os Gedolos Series now continues with an unprecedented Mikra'os Gedolos on Kesuv'im. Many mefarshim never before together on the Mikra'os Gedolos page - with many new additions.
Every word of every commentary is Menukad, with the rashei teivos spelled out
The text of every commentary has undergone thorough review and diligent research, based on manuscripts and early printings
Newly typeset, user-friendly page design
Specially milled, acid-free, lightweight opaque paper
Classic Mikra'os Gedolos commentaries: Targum Yonasan, Rashi, Likutei Radak, Rid, Ralbag, Minchas Shai, Biur HaGra, Mezudas David, Mezudas Tzion, Malbim Plus These Additional Commentaries: Mahari Kara, Maharal, Minchas Erev, Rishon LeTzion, Chomas Anach, Rabbenu Bachya Ibn Ezra, Megillas Starim, Rashbam, Alshich, Targum Sheni, Pas'shegen.
Included in this set
Shir Hashirim
Megilat Ruth
Megilat Eicha
Megilat Koheles
Megilat Esther
Dimensions:
6.125 x 8.25 x 1.72 inches