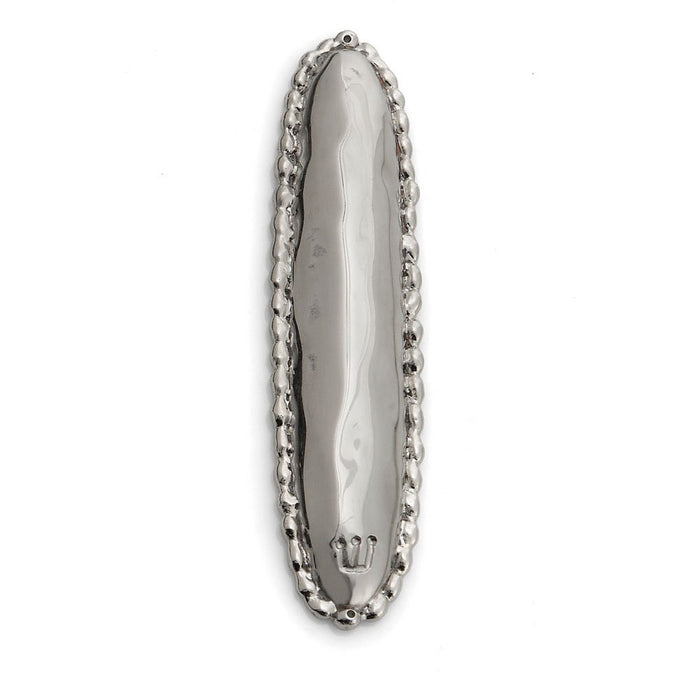 Molten Mezuzah by Michael Aram
Original price
$60.00
-
Original price
$60.00
Product Description
The Molten Collection takes its inspiration from the lore of ancient craftsmanship and the application of these time-honored techniques to modern shapes and environments. It is about the transformation of "industrial" to "beautiful", "technical" to "lyrical". The collection also strives to represent the clean lines and minimal atmosphere associated with the ideals of contemporary life and progressive design. Intricately hand welded edges make each piece an individual work of art, with no two pieces being identical.


Each Michael Aram metal object undergoes a series of grinding, buffing and polishing techniques. Variations or 'imperfections' in the product's finish are characteristic of the creation process. Due to this handmade nature, no two pieces are ever exactly alike.
Dimensions: 1.25"W x 5"L
Materials: Nickelplate
Care: Wipe with soft damp cloth. Do not soak in water. Dry immediately with a soft cloth to avoid spots. Do not use solvents, ammonia or any household soaps and cleaners. Do not use abrasive cleaners, steel wool or scouring pads that can scratch and dull metal surfaces.
Product Options 
If you choose "No Scroll", we'll ship you the Mezuzah with no scroll inside. Choose this if you already have a scroll. 
If you need a scroll as well, choose "Add a Kosher Scroll". We'll ship your Mezuzah with a Basic Kosher scroll already rolled and inserted inside the Mezuzah.
What is a Mezuzah
Mezuzahs will bring blessing to your home. According to Jewish tradition, they should be on every door of your home. Besides the front door, Mezuzahs also go on the back door, bedroom doors and many other doors of your home.