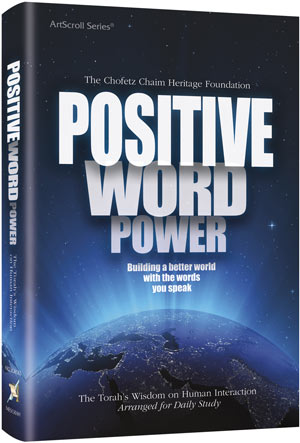 Positive Word Power
Building a better world with the words you speak
Sale
Sale
Original price
$29.00
-
Original price
$29.00
BY The Chofetz Chaim Heritage Foundation
Talk is NOT cheap. Words are our most valuable - and most powerful - assets. Through words, we can forge or tear down relationships, inspire or demean our children, spouses, or friends, offer comfort or inflict pain. Through words, we can create an atmosphere of harmony or discord, contentment or conflict, blessing or, Heaven forbid, its opposite.

Controlling and properly channeling our words can seem as impossible as stopping a rushing river. But the Torah teaches us that we can control what we say.

The Chofetz Chaim taught us how to incorporate the laws of shmiras haloshon into our daily lives. Positive Word Power, based on Rabbi Zelig Pliskin's classic The Power of Words, focuses on ona'as devarim, -- the hurtful speech we all too often use in our direct, daily interaction with others. This original work examines dozens of true-life situations in which the wrong words can wound people, damage friendships and ignite hostility. More importantly, it offers concise, practical strategies for controlling destructive speech and for communicating with others in ways that nurture and build.
Author: Chana Nestlebaum