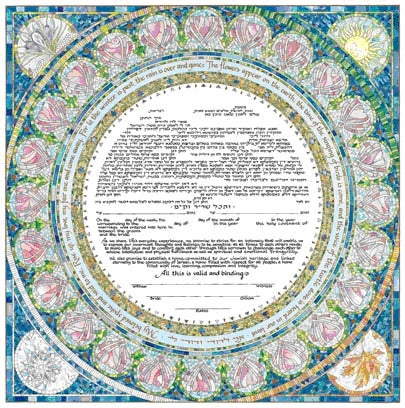 Seasons Ketubah
Original price
$250.00
-
Original price
$430.00
Dimensions: 20" x 20"
The ketubah text is encircled by a finely detailed mosaic of flowers blooming in the shape of hearts. The intricate images of the four seasons represent the cyclical nature and commitment of the marriage vows. Fine gold foil accents shimmer in the light.
The cycle of the seasons is also symbolized by the circle of the vows. Surrounding the actual ketubah text, is the quote from the Song of Songs (II:10-12) in a circle:
My beloved spoke and said to me, Rise up my love, my fair one and come away. For lo, the winter is past, the rain is over and gone; The flowers appear on the earth; the time of the singing of birds is come, and the voice of the turtle dove is heard in our land.
And in Hebrew only, אני לדודי ודודי לי (translation: I am my beloved's and my beloved is mine)
caspi