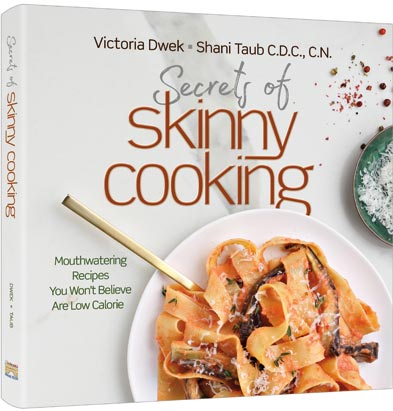 Secrets of Skinny Cooking - You Won't Believe It's Low-Calorie!
Sale
Sale
Original price
$35.99
-
Original price
$35.99
You Won't Believe It's Low-Calorie!

From your creamy Eggplant Parmesan for lunch, the moist Corn Muffin you grab for breakfast, to to your Sesame Chicken & Lo Mein for dinner and so many more... enjoy all your favorite dishes, now surprisingly low in calories!

Did you know that low-calorie dishes can be just as enjoyable as those with lots of calories? Now they finally are! In Secrets of Skinny Cooking, Victoria and Shani show you how you can savor exciting, flavorful, and filling meals... all for a fraction of the calories they'd typically be.

Secrets of Skinny Cooking features

Over 135 delicious and easy-to-prepare recipes, with breathtaking photos for each dish Secret techniques and tips for zapping the calories from any dish ... without zapping the flavor (such as, "How to Saute and Caramelize Onions Without Oil.")
Make ahead info, family-friendly adaptations, and cooking tips from Victoria
Nutritional information, advice, and motivation from Shani
Plenty of gluten-free, sugar-free, low carb, Whole30, and Paleo options
Every meal is covered! Enjoy filling breakfasts, super light salads, 5-ingredient veggie sides, friendly carbs, satisfying soups, creamy and dreamy dairy dishes, filling and flavorful mains, and even sweet treats.
Whether you've always enjoyed light, healthy eating, or want to lose or maintain weight, Secrets of Skinny Cooking offers more options than you ever thought possible, including a Strawberry Cheesecake Smoothie, No-Cal Sushi, Ramen Noodle Bowl, Pulled Chicken Tacos, and Salmon with Techina Sauce even Creme Brulee for dessert. There are so many you'll want to try. Why settle for bland dietetic food when you can enjoy the delectable dishes of Secrets of Skinny Cooking?


Author Bios:

Powerhouse food writer Victoria Dwek the co-author of the bestselling Secret Restaurant Recipes, Everyday Secret Restaurant Recipes, and Made Easy cookbook series.

She's the managing editor of Whisk, kosher food magazine published weekly by Ami Magazine, where tens of thousands of loyal readers turn weekly to her "Hello Cooks" column. She's a featured personality on Kosher.com, where fans tune into her cooking shows, including the video series based on Secrets of Skinny Cooking. Victoria is also a founding partner of BetweenCarpools.com, the lifestyle site and app for the busy Jewish woman, where she shares inspiration and tips that go beyond food. She holds a B.A. from New York University and an M.F.A. in Creative Writing from Sarah Lawrence College.

Shani Taub a certified nutritionist and certified diet consultant who has helped hundreds of patients take control of their weight and start on a new path of health. Live in Lakewood, New Jersey, she counsels patients from all over the East Coast, from Monsey to Brooklyn to Baltimore, and internationally, in Canada, Switzerland, and Israel.
Shani struggled with her weight as a child and understands the various challenges faced by her patients who are trying to get healthy. Every struggle is unique and each patient has different triggers that will push them to reach their goal. Working one-on-one, Shani creates a personalized eating plan that fits with that person's taste and lifestyle every one. In addition to her renowned weight loss counseling, Shani Taub has also launched a successful line of health foods.