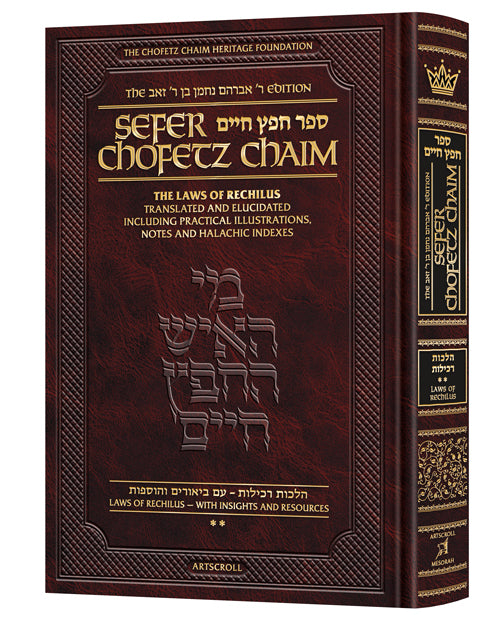 Sefer Chofetz Chaim - Vol 2
Sale
Sale
Original price
$33.00
-
Original price
$33.00
The Laws of Lashon Hara Translated and Elucidated including Practical Illustrations, Notes, and Halachic Indexes
Product Description
Rav Yisrael Meir Kagan's Sefer Chofetz Chaim is the foundation of the "shemiras halashon revolution" that changed the way we speak — and the way we live our lives.

This monumental work, product of thousand of hours of research and writing by a dedicated team, makes the words of the Chofetz Chaim accessible to all, while notes and annotations bring valuable new insights

• Full Hebrew text of the Sefer Chofetz Chaim
• Phrase by phrase translation and elucidation, following the format of the Schottenstein Edition Talmud • Charts clarify the various aspects of the halachos
• In-depth notes add background to the halachos
• Special feature: Scenarios show the real-life application of the halachah, helping the reader see how relevant each halachah is to daily life.
• Dates are marked on the halachos for ease of use for those following the "shemiras halashon yomi" calendar.

Format: Hardcover
Pages: 430
Dimensions: 7 x 10 inches 
Release Date: 12/12/2022
Size : Standard
Color: Maroon
Language: Hebrew/English