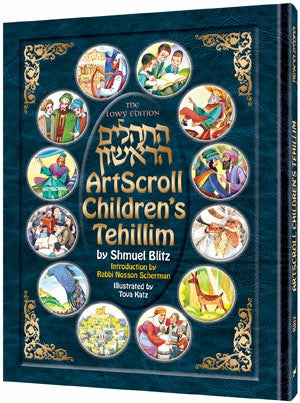 The Artscroll Children's Tehillim
Sale
Sale
Original price
$19.00
-
Original price
$19.00
A friend is someone you can always talk to. Someone who comforts you when times are hard and is always there when you need a companion. Sefer Tehillim, the Book of Psalms, is a Jew's closest friend.
Shmuel Blitz, the acclaimed and popular children's author whose twenty bestselling works include The Children's Siddur, The Children's Haggadah, and The Children's Megillah now brings our youngsters King David's beloved Book of Psalms, Sefer Tehillim.Working closely with noted rabbis and educators he has carefully chosen a large selection of Psalms whose message children can understand on their own level.
The Hebrew text of each Psalm - in a large, easy-to-read format, with vowels is designed to help children read by themselves
An engaging English-language translation adapted for children that brings the words and concepts to life
Many fascinating "Did You Knows" and "Closer Looks" that enrich and interest young readers (and older ones too!)
An inspiring introduction by

 

Rabbi Nosson Scherman
Lively and exciting full-page color illustrations by celebrated children's artist

 

Tova Katz

 

that spark the imagination and make the words almost jump from the page!
As our children and grandchildren grow up, their friends may come and go. The Artscroll Children's Tehillim is a wonderful way to introduce young people to the words of King David, that will remain a faithful companion and a lifelong friend.
Dimensions:
8.5 x 11 inches