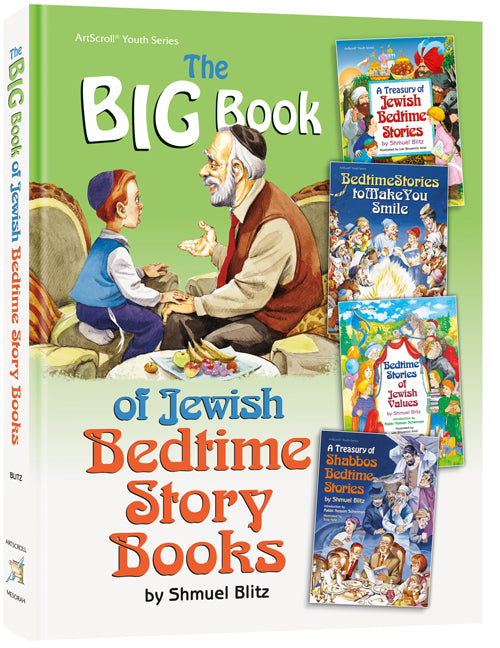 The Big Book of Jewish Bedtime Story Books - 4 Books in 1 !
Sale
Sale
Original price
$30.00
-
Original price
$30.00
By Shmuel Blitz
Sssssh ... It's Bedtime now ... Time to go to sleep ... Time for a Story by Shmuel Blitz

Over the years, tens of thousands of children have drifted off into cozy, comfortable sleep, to the sound of Mommy or Daddy reading them Shmuel Blitz's classic - and very beloved -- bedtime stories. Beautifully crafted with young children in mind, the stories are engaging and often funny, guaranteed to make bedtime one of the best times of the day, and a perfect way to bond with our children.

The Big Book of Jewish Bedtime Story Books includes:

A Treasury of Jewish Bedtime Stories: With its charming stories and delightful illustrations, this is the book that introduced parents and children to the magic of a Blitz Bedtime.

Bedtime Stories to Make You Smile: What better way to guarantee sweet dreams than by falling asleep to stories that bring on smiles and chuckles and happiness!

Bedtime Stories of Jewish Values: Here are stories that let us gently share our most deeply-held values with our children: respecting others, being honest, welcoming guests, learning to forgive, and so many other cherished Jewish values.

A Treasury of Shabbos Bedtime Stories: Who loves Shabbos? We all do! Whether you share these stories with the children as a special Shabbos treat or read it to them all through the week, these stories will give young children a deep appreciation for the gift that is Shabbos.
Dimensions :
8.5 x 11 inches
Release Date :
03/30/2022
Size :
Standard
Age Range:
Childrens - 5 - 8
Language:
English