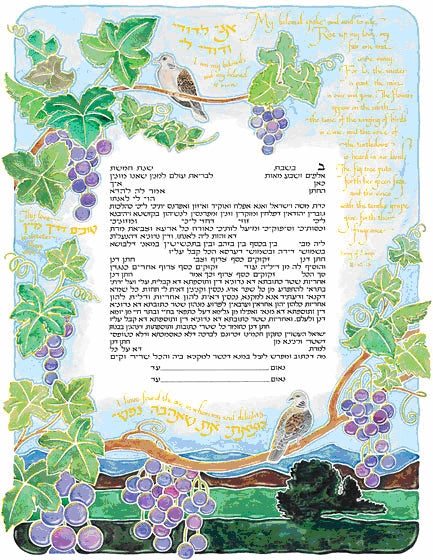 Turtledove Ketubah
Original price
$200.00
-
Original price
$380.00

Dimensions: 19.75 × 25.5 in
Two turtledoves representing devotion and faithfulness, are perched on grape vines, symbols of peace and abundance. Quotes from the biblical love poem, the Song of Songs, are delicately written in gold foil calligraphy.
ACTUAL QUOTES FROM THE TURTLEDOVE KETUBAH
אני לדודי ודודי לי
I am my beloved's and my beloved is mine
I have found the one in whom my soul delights
מצאתי את שאהבה נפשי
טובים דדיך מיין
Thy love is sweeter than wine!
My beloved spoke and said to me, Rise up, my love, my fair one and come away. For lo, the winter is past, the rain is over and gone; The flowers appear on the earth; the time of the singing of birds is come, and the voice of the turtle dove is heard in our land. The fig tree puts forth her green figs, and the vines with the tender grape give forth their fragrance – Song of Songs II:10-13
caspi