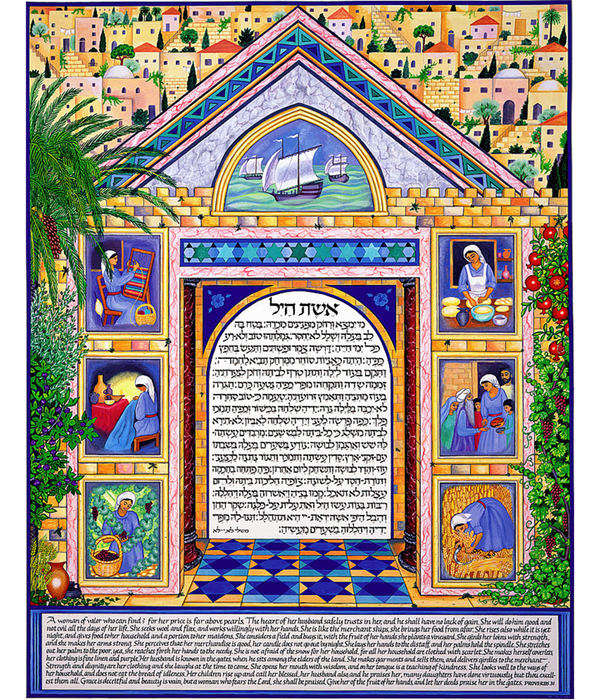 Woman of Valor
Original price
$260.00
-
Original price
$260.00
Size 18 1/4" x 23"
"Give her of the fruit of her hands; And let her works praise her in the gates." (Proverbs, 31;31)
This painting attempts to make literal the figurative phrase at the end of chapter 31 of Proverbs (quoted above), a chapter which is customarily read on Friday nights at the Shabbat dinner table, and is often given by Jewish men to their wives as a gift of art and calligraphy expressing their love and appreciation.
Figuratively speaking, the complimentary things that people tell about "the woman of valor" to her husband when he sits in the city gates with the elders of the land -- describing the good work she does, her kindness, diligence and excellence -- these things "praise her in the gates". What I tried to do here is depict an actual gate, with the ancient city of Jerusalem (or one similar to it) behind it, and then put the different kinds of work and good deeds the Woman of Valor does in a series of murals above and on both sides of the gate.
The comparison of the woman to the merchant ships which bring food from afar is on top. Below it, on both sides of the gate, the woman herself is depicted as she weaves, sews, works in her vineyard and her field, makes bread for her household and gives charity to the needy. These activities represent the hard work, the kindness and the devotion of today's modern woman, whose activities are only different in form, not in essence.
To add a sense of abundance and richness, I "planted" the seven species of Israel in front of the city wall on both sides of the gate, and to add Jewish symbolism, I put Star of David decorations on the floor and above the gate.
In addition to the Woman of Valor, I have a related piece for the "Man of Valor", the "Eesh Chayil", which celebrates the man in the Jewish family, and consists of various psalms and verses from Proverbs and Pirkei Avot.
This print has been printed in the giclee technique, with a protecting coating, on 140 lbs. 100% rag paper. Colors are non-fading, for at least 85 years.
This print is available both as an anniversary ketubah, with any of the various ketubah texts printed in the center (as shown here), and as an illuminated manuscript with the Hebrew Eshet Chayil text printed in the center. The English Eshet Chayil text at the bottom stays intact in both.